Listen to "Brand on Broadcasting" on Spreaker.


Ross Brand
Kim Doyal, Content Creators Planner
---

Episode 007:
On Brand on Broadcasting with Ross Brand, we talk with Kim Doyal about a new planner for content marketers for developing your content strategy and measuring the results.
Episode 007 of Brand on Broadcasting features Kim Doyal, author of the Content Creators Planner, discussing how her new planner fills a void in the content marketing space. While most planners and apps focus on scheduling, Kim's planner is unique in providing a guide to developing and implementing your content strategy. The Content Creators Planner can be found at ContentCreatorsPlanner.com.
Kim is a talented and experienced content creator and digital marketer who runs the Content Creators Facebook group and hosts the Kim Doyal Show. Kim will share her thoughts on where content creation is heading and how she will approach her own content plans for 2019. Her website is KimDoyal.com
Brand On Broadcasting is a Livestream Universe production: http://LivestreamUniverse.com
Subscribe to podcast on ApplePodcasts: http://LivestreamUniverse.com/brand-iTunes/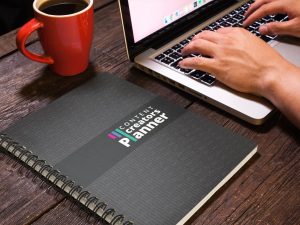 About Ross Brand
Ross Brand is a pioneer in the livestreaming field as both a prolific content creator and thought-leader exploring the different ways to leverage live video to grow your business or brand.
Named the world's number 1 livestreaming expert to follow on social media by Klout and selected as one of "5 live video experts to follow" by Switcher Studio, Ross made the successful transition from terrestrial radio to live streaming, founding LivestreamUniverse.com to empower other live video creators by showcasing their content through updates and shows.
Ross also runs the LivestreamDeals.com website and creates audio content for podcasts and Alexa Flash Briefings. Find him on Twitter: @iRossBrand. His Instagram username is @RossBrand1.

Ross' Links

Ross' Livestream & Podcast Gear

Mounts & Lighting

Website Themes & Templates

DISCLAIMER: This website contains affiliate links, which means that if you click on one of the product links, we receive a small commission. This assures we can continue bringing you talented broadcasters and great products across livestream and online platforms. Thank you for the support! We only link to products we use or are highly recommended by trusted sources.