Listen to "Brand on Broadcasting" on Spreaker.

Ross Brand

Nick Nimmin, VidSummit
---

Episode 005:
On Brand on Broadcasting with Ross Brand, we talk with Nick Nimmin about how he gained 240k subscribers to his YouTube channel in the last year. We also discuss #NimminLive, the long-form YouTube livestream show he co-hosts on Saturdays at 9am ET with his brother, Dee Nimmin. On #NimminLive, Nick and Dee share YouTube news and tips and provide viewers with their coveted channel reviews. Our conversation also covers IRL livestreaming and Nick's experience taking over Derral Eves' 24/5 livestream during VidSummit.
Episode 005 was recorded live and in-person at #VidSummit2018 in Los Angeles, powered by the LiveU Solo. Save 10% on a LIveU Solo HERE!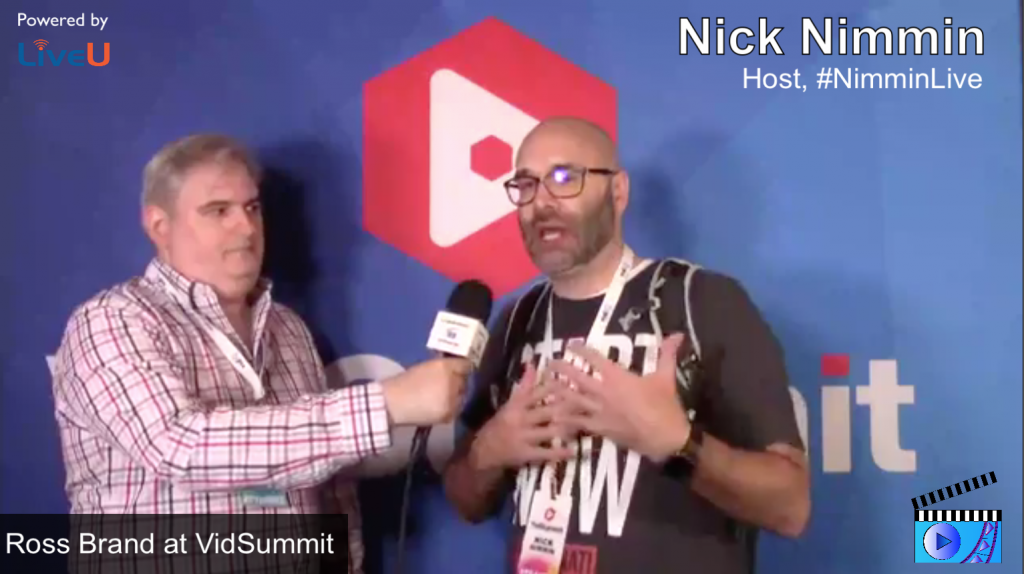 Nick Nimmin shares YouTube tips, video tips, YouTube video ideas and more to help you grow your YouTube channel by getting more subscribers and views. If you're a Youtuber, business owner or hobbyist who is interested in making videos for YouTube, make sure to subscribe to his YouTube channel for helpful training videos.
Nick is YouTube Certified and has been on YouTube actively since 2014. Over that time he's helped countless others grow their presence online through his content and consulting service. Nick is also the owner of TuberTools.com where creators can get video graphics and more for their videos.
Brand On Broadcasting is a Livestream Universe production: http://LivestreamUniverse.com
Subscribe to podcast on ApplePodcasts: http://LivestreamUniverse.com/brand-iTunes/

About Ross Brand
Ross Brand is a pioneer in the livestreaming field as both a prolific content creator and thought-leader exploring the different ways to leverage live video to grow your business or brand.
Named the world's number 1 livestreaming expert to follow on social media by Klout and selected as one of "5 live video experts to follow" by Switcher Studio, Ross made the successful transition from terrestrial radio to live streaming, founding LivestreamUniverse.com to empower other live video creators by showcasing their content through updates and shows.
Ross also runs the LivestreamDeals.com website and creates audio content for podcasts and Alexa Flash Briefings. Find him on Twitter: @iRossBrand. His Instagram username is @RossBrand1.

Ross' Links

Ross' Livestream & Podcast Gear

Mounts & Lighting

Website Themes & Templates

DISCLAIMER: This website contains affiliate links, which means that if you click on one of the product links, we receive a small commission. This assures we can continue bringing you talented broadcasters and great products across livestream and online platforms. Thank you for the support! We only link to products we use or are highly recommended by trusted sources.